Green Homes
In Partnership with The Alexander Group
USGBC Awards Annapolis Home LEED® Platinum Certification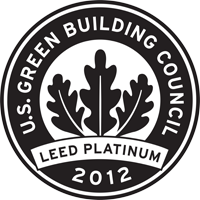 November 11, 2012 – (Annapolis, MD) Forelands Road was awarded LEED Platinum certification by USGBC for achievement in green homebuilding and design. LEED for Homes is a green home certification program that rewards homes that are designed and built to be energy and resource-efficient and more healthy and durable for the occupants. LEED-certified homes complete a technically rigorous process that often includes a home energy (HERS) rating and onsite inspections to verify that the home is built to be energy and water efficient, environmentally sound, and a healthier place to live.
Forelands Road is one of 21 local homes that have been certified using LEED. The home was built by The Alexander Group, Inc. which is known for their expertise in building high performance, energy efficient LEED homes. Green homes may have substantially lower utility bills1 and may qualify for advantageous financing, lower insurance rates and government incentives. Through their commitment to green homebuilding, The Alexander Group, Inc. is helping to keep homeownership affordable.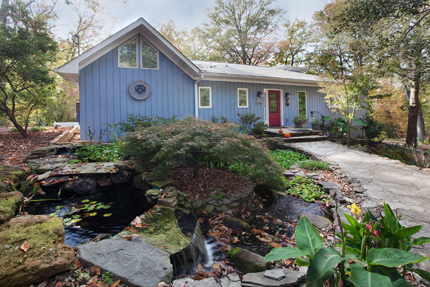 "It is very rewarding to help homeowners realize their dreams of a home that meets their families needs in every way, and is a high performance, energy efficient, healthy, environmentally conscious and sustainable home," said Alex Dean, LEED AP Homes, whose firm designed and built the home.
"The average new construction (in this area) uses 35.5 kBTUs per square foot," said David Kaiser, ME, Green Rater for the project. "(This) house uses 13.6 kBTU per square foot...show(ing) that last year (it) used 62% less energy than a typical home." As a LEED-certified home, Forelands Road serves as a model of greener living for the entire community," said Nate Kredich, Vice President of Residential Market Development for the USGBC. "The home sets the example that we can all live better by reducing our environmental footprint, cutting our utility bills, and coming home to a greener place to live."
"We are quite pleased with the quality of work and the follow-up we received from The Alexander Group," said the homeowner. "The craftsmanship and attention to detail of the lead on-site project manager was incredible. The architect was very responsive to our wishes and changes we asked for. We really enjoy our home."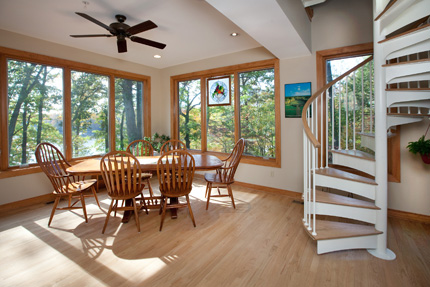 About the Home: The project was a whole house reconstruction and a two-story addition. The previous structure was a one story rambler with a leaking basement overlooking a river. The homeowners desired a green home with modern features.
Constrained by zoning laws, the new home had to stick to the existing footprint. Using the previous sunroom square footage, a two story tower was built on the right rear corner, providing breathtaking of the forest and river below. The first floor of the tower is a sunroom with a spiral staircase up the second floor which serves as a sewing room.
Everything in the house was re-constructed and renovated including the kitchen, living and dining rooms, bedrooms and bathrooms. Structural improvements solved the problem of water flooding the basement. A new geothermal HVAC system, new septic tank, new well, new underground propane tank, a new backup emergency generator, sprinkler system, new solar panels and new foam insulation all work together to make this home in the forest very energy efficient, green and comfortable. The monthly electric bill is nearly nonexistent now.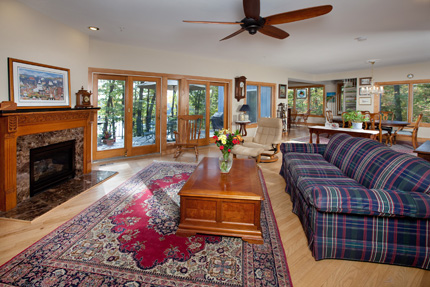 About The Alexander Group, Inc.
The Alexander Group is a leader in High Performance, Energy Efficient, Sustainable building design, construction and renovation. The newly awarded Annapolis home certification was preceded in 2009 with a Gold LEED certification for a home in Oxon Hill, Md.
[As of this writing, The Alexander Group is the only active company that has done multiple LEED certified custom homes in Maryland and DC.]
About USGBC
The U.S. Green Building Council is a nonprofit membership organization whose vision is a sustainable built environment within a generation. Since USGBC's founding in 1993, USGBC has grown to more than 18,000 member companies and organizations and a comprehensive suite of LEED green building certification systems. Its membership includes corporations, builders, universities, government agencies, and other nonprofit organizations all sharing USGBC commitment to a prosperous and sustainable future for our nation through cost-efficient and energy-saving green buildings. Visit www.usgbc.org for more information.
About LEED for Homes
LEED for Homes is a third-party certification system for building and designing high-performance green homes that are energy-and-resource-efficient and healthy for its occupants. Developed and administered by USGBC, LEED for Homes awards points to projects in eight categories of environmental performance: Innovation & Design Process, Location & Linkages, Sustainable Sites, Water Efficiency, Indoor Environmental Quality, Energy & Atmosphere, Materials & Resources, and Awareness & Education. To date, more than 18,000 units have achieved certification with LEED for Homes program, and over 75,000 have registered and are in process. For more information, visit www.usgbc.org/homes.